Surf Tips
Surf Gear Reviews
The Best Camera For Surf Photography And Video
Best Cameras And Lenses For Surf Photos - Updated for 2023
So you want to take some surf photos?  After 13 years of professional surf filming and photography, I often get asked about camera advice.  Taking good quality surf photos has never been easier thanks to improved technology.  However, there are a few key things to look for when choosing cameras, lenses, and housings.
Taking surf photos is so much fun.  Whether from land or from the water, there are a few excellent options for those looking for something simple to start out with, all the way to those looking for a more professional setup. So if you're confused about where to start, read on for my advice on the best gear.
What's The Best Camera For Surf Photography?
You don't need a high end, expensive setup to take good surf photos.  I like the expression "It's not the arrow it's the Indian."  I've seen photographers that have $10,000 worth of equipment but their surf photos suck (sorry!).  I've also seen people take amazing surf photos with cheap cameras and iPhones.  It's really what you do with your camera and not all the bells and whistles.
I will lay out my recommendations for the best camera for surf photography here in this article, depending on your budget and the type of photos you want to shoot.  If you have any questions or comments, please leave a note below!
Land Based Surf Photography And Video
This is the most common form of surf photography, and is the most accessible.  It's also the starting point for those who don't surf but want a piece of the action.
There are three things you will need to take great photos from the beach: a good camera body, a telephoto lens, and a sturdy tripod.
If you're in a rush, click here to scroll down to my camera kit recommendations!
SAVE MONEY
KEH Camera - Buy Used, Save Money
You can often buy high quality preowned cameras for less money than a brand new one. Buying from a reputable used camera dealer offers some peace of mind. I highly recommend KEH for used camera gear.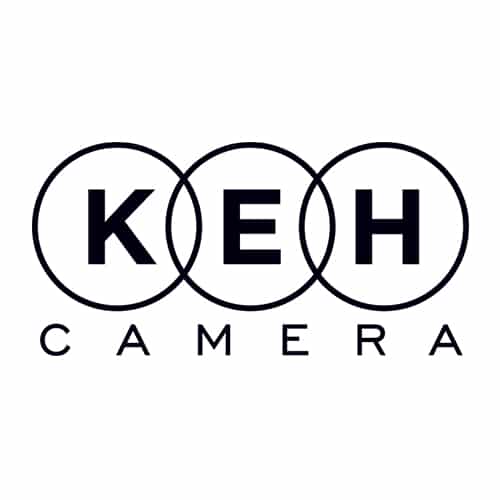 Camera Body
A camera body is just that; everything but the lens.  Many Digital SLR cameras have come down quite a bit in price but still have some amazing features and technology.  One of the features that I think is very helpful for taking good surf photos is the burst mode or continuous shooting mode, which is how many shots per second the camera will take when you hold down the shutter button.  This will enable you to catch the subject in the best looking position during whatever maneuver they are doing.
For instance, if you want to shoot a backside hack you will want the surfer and board in a certain position in the photo, otherwise it won't look as great as it could.  Some photographers might think of burst mode as a crutch, but don't worry about that — this is very helpful if you don't have your timing down when shooting (that's something that comes with practice).
The best part about today's Digital SLR cameras is that they can shoot HD video as well, so you can do both things with one camera.  I have shot all of my films (check out www.leashless.tv) on Canon Digital SLR cameras.
If you are just starting out and don't want to break the bank I highly recommend getting a used 7D Mark II.  The price on these has come WAY down and it is an amazing camera. The 7D will give you 10 shots per second. If you want 4k video, then the Rebel T8i is your best bet.
If you are looking to get into mirrorless and 4k video now is the time.  I currently shoot with a Canon EOS R7, which fires at around 15 shots per second in continuous shooting mode.
Table could not be displayed.
If you DO want to break the bank, I had the pleasure of shooting with Sony's line of mirrorless cameras and their G Master lenses.  What a treat.  These cameras were on loan from Sony to shoot a skateboarding trip, so I do not own them (yet).  But eventually I would like to purchase the Sony A9 and some G Master lenses.  The autofocus and video features are extremely good, and the photos I came away with were stunning right out of the camera.  In my professional work I am moving into Sony's line at the moment.
Lens
In order to get good photos from land you will want a decent telephoto lens.  Again as with the camera bodies there are several options for all budgets.
Lenses (also called "glass" in the industry) are more important to photography than the camera body, in my opinion.  I would easily spend more on a good lens than to upgrade my camera body.  It is very apparent when a good lens is being used.  However, if you shop around you can still get lenses that hit the sweet spot between price and quality to fit your budget.
Prime lenses are those that have a fixed focal length.  Although this can require more lens changes, prime lenses have the best image quality.  Prime telephoto lenses, however, are rather expensive.  Zoom lenses are those that can be adjusted between focal lengths, however they sacrifice image quality for versatility.
At minimum I recommend at least 300mm for shooting surf photography.  Unless you're shooting a very close beach break (think Newport), you don't want to go below that or your shots will look too far away.
Best Bet For Low Budgets:  The lens I started out with and recommend is the Canon EF 70-300mm IS USM.  This is a very good quality lens for the price, and at 300mm you can get close enough to the action to make your shots look professional.  An even cheaper option is the Tamron 70-300mm, however you will sacrifice some quality (although some people might not even notice).
Best Bet For Higher Budgets: If you have a higher budget, then I recommend jumping up to the "white" Canon lenses; the Canon EF 100-400mm is what I currently use right now, and there's also a 70-300mm for a slightly l
ower price.  If you're going the Sony mirrorless route, the Sony FE 100-400 is our top pick.  Amazing glass.
The prime telephoto lenses are much too expensive to recommend to hobbyists unless you are rich or going professional.  It's unfortunate.  However, you might be able to find used ones at sites like KEH.
Ensure you get a UV lens protector for your lens!  I don't use them on all of my lenses, but I do use them for my surf telephotos because they need to be cleaned often due to the salt air that accumulates on the camera and lens.  You don't want this to accumulate directly on your glass.
Table could not be displayed.
Tripod
Because land-based surf photography uses such long lenses, you really need a tripod.  It's almost impossible to take steady photos by hand with a telephoto, plus the lenses are heavy.
Depending on what you want to do with your tripod, you can go low or high.  If you ever want to shoot video, however, you should get a tripod that has a smooth head.  Lower end tripods result in very jerky panning.  This can also affect photography as you track your subject, however it's less important.
For lower budgets: Just get something simple.  I recommend the Amazon Basics tripod.  It's not a huge investment and it will get you started.
For higher budgets: I am a huge fan of Manfrotto.  These are higher end tripods but will last and have excellent fluid heads that pan like butter.  The Manfrotto is a great setup for hobbyists and professionals.  If you're trying to shoot video, I definitely recommend this tripod.
Table could not be displayed.
Water Photography And Video
Water shots are really fun, but require a bit more effort and equipment.  The easiest way to start out with water surf photography is to use a GoPro or a waterproof camera such as the Fuji XP 120.  A waterproof iPhone housing would also do the trick.  Just something to get your feet wet.
If you're more serious, you can get a housing for a DSLR camera.  Housings range from cheap to thousands of dollars.  However, a DSLR in a housing will result in the best and most professional looking photos.
AxisGo + iPhone
You already own a great point and shoot camera–your mobile phone.  There are a few housings for your phone that will give you some great looking shots, all without having to buy a new camera.  With the massive improvements in the iPhone cameras over the years (4k video and amazing still photography) it's almost bridging the gap between expensive camera gear and phones.
There are a few housings out there for iPhones at different price points, however the folks at Aquatech do one job and do it very well.  Their AxisGo housings are professional level and have an assortment of amazing accessories including a pistol grip and an over/under lens port.
Top Pick
AquaTech AxisGO iPhone Housings
The AxisGO is an underwater iPhone housing allowing you to capture stunning images and videos down to 33ft with the familiar camera on your phone. Ideal for family fun or thrilling surf sessions, AxisGO safeguards your iPhone while you concentrate on the perfect shot. Enjoy full touchscreen access for seamless use of your favorite photo apps and instant sharing, even capturing selfies with the front camera.
The images and video people are getting on the latest iPhones is incredible, and it's almost reducing the need for a huge housing for your DSLR.
The nice thing about doing it all on your phone is that you have all of your photos loaded on your device ready for editing and color correction.  You don't have to take them off a digital camera first.  This saves you an extra step.
GoPro
The biggest and most popular action sports camera, the GoPro, is one of the best waterproof cameras on the market.  With options for video and photo and a litany of attachments and mounts, the GoPro is also one of the most supported cameras to use for photos and videos.  Add to that the small size and you have something that is very easy to use and fun.
The latest version, the GoPro 6, improves upon the camera in several different ways.  The best thing for me is the color balance — it is much improved over other GoPros and can now be used without a ton of color correction.  It also has built in image stabilization, but that would probably only benefit those shooting video.
The only downfall to the GoPro is that you have to be very close to the action due to the fisheye lens.
I will be honest in that I do not really like the GoPro for surf photography, but you can definitely get creative with it.  If you are shooting other surfers you really have to be close.  However, GoPros are user-friendly so I don't totally rule them out.
GoPro HERO11 Black
Experience a new level of creativity with the HERO11 Black camera, equipped with a groundbreaking image sensor that offers an unparalleled field of view. Boasting 5.3K video resolution and 27MP photo capabilities, this camera delivers breathtaking visuals while the Emmy Award-winning HyperSmooth 5.0 stabilization ensures smooth footage. The kit is complete with an Enduro battery, carrying case, and essential mounting gear for all your adventures.
Fuji XP120
The Fuji XP 120 is a digital point and shoot that allows you to take more traditional looking photos without the fisheye or wide angle influence.  I actually enjoyed using this camera a lot – and I preferred the photos I got from this camera vs the GoPro.  However, it lacks versatility and mounting options.  I would tie a string around the eyelet and hang it around my neck, and when I wasn't taking photos I would tuck it in the back of my wetsuit to surf.  It's flat and is a perfect shape to snug between your wetsuit and body.
Our Pick
Fujifilm FinePix XP120
The FINEPX XP130 is the latest model in the XP series rugged camera category. Waterproof to 65 ft., shockproof up to 5.8ft, freeze proof to 14º F and dustproof makes this camera ideal for all your outdoor adventures.
SPL Housings
SPL Water Housings are the cream of the crop, and although they are expensive they deserve a mention here. These will run you around $1000 and up, and are what the professionals use.
These are custom made and come with a variety of bells and whistles. There are two lines, the A Series and the Splash. They also make housings for GoPro cameras as well. Getting a used one is an option, however I would caution against getting one from Craigslist as the owner might not disclose any leaks the housing might have.
---
My Camera Kit Recommendations For Land Based Photo And Video
Sub $500 Kit:
Great for beginners getting a feel for the hobby.
Description:

Tamron 70-300mm f/4.0-5.6

Description:

AmazonBasics 60-Inch Lightweight Tripod
Description:
Tamron 70-300mm f/4.0-5.6
Sub $1000 Kit:
A middle of the road kit that will get your more power and image quality as well as more shots per second in burst.
Description:

Canon EF 70-300mm f/4-5.6 IS USM Lens

Description:

AmazonBasics 60-Inch Lightweight Tripod
Description:

Canon EF 70-300mm f/4-5.6 IS USM Lens
My Personal Kit:
The kit that I currently have and use – an excellent kit that will get you professional results. Moving into mirrorless cameras.
Description:

Canon EF 100-400mm f/4.5-5.6L IS II USM Lens

Description:

Manfrotto Tripod with 502 Series Fluid Head
Description:

Canon EF 100-400mm f/4.5-5.6L IS II USM Lens
Dream Kit:
Description:

Sony a9 II Mirrorless Camera

Description:

Sony FE 100-400mm F4.5–5.6 GM

Description:

Manfrotto Tripod with 502 Series Fluid Head
Description:
Sony a9 II Mirrorless Camera
Description:
Sony FE 100-400mm F4.5–5.6 GM
SAVE MONEY
KEH Camera - Buy Used, Save Money
You can often buy high quality preowned cameras for less money than a brand new one. Buying from a reputable used camera dealer offers some peace of mind. I highly recommend KEH for used camera gear.